Ventajas de R como herramienta para el Análisis y Visualización de datos en Ciencias Sociales
Palabras clave:
Software estadístico, Lenguaje de Programación R, Análisis de datos, Visualización de datos, Ciencias Sociales
Resumen
De entre los variados software gratuitos actualmente disponibles destaca uno que, por su cada vez mayor aceptación y promoción en los ámbitos académico e investigativo, se ha convertido en un potente referente en lo que respecta a la computación estadística de alto nivel como apoyo a las más diversas disciplinas científicas; nos referimos a R. Como tal R es un lenguaje de programación empleado primordialmente para efectuar análisis estadístico de datos y construcción de gráficos. Actualmente R es considerado la lengua franca de la estadística, debido a algunas de sus características que lo sitúan muy por encima de prácticamente todos sus "competidores": R es gratuito y libre, es muy versátil, permite realizar una cantidad insospechable de procedimientos estadísticos y gráficos, permite construir gráficos de calidad inmejorable, etc. Sumándonos a la "corriente R", y junto con esto a la filosofía misma del software libre, el presente trabajo tiene como principal objetivo presentar las amplias ventajas de R como herramienta para el análisis y visualización de datos en Ciencias Sociales.
Citas
Bologna, E. (2013). Estadística para Psicología y Educación (3raedición ampliada). Córdoba: Brujas.

Bouchet-Valat, M. & Bastin, G. (2018). Rcmdr Plugin.temis: Graphical Integrated Text Mining Solution. R package version 0.7.10. URL https://cran.r-project.org/web/packages/RcmdrPlugin.temis/index.html

Brunson, J. (2018). ggalluvial: Alluvial Diagrams in 'ggplot2'. R package version 0.9.1. URL https://CRAN.R-project.org/package=ggalluvial

Dawson, R. (1995). The "Unusual Episode" Data Revisited. Journal of Statistics Education, 3(3), 1-9. Elosua, P. (2009). ¿Existe vida más allá del SPSS? Descubre R. Psicothema, 21, 652-655.

Elosua, P. (2011). Introducción al entorno R. Bilbao: Euskal Herriko Unibertsitateko Argitalpen Zerbitzua. Feki-Sahnoun, W., Njah, H., Hamza, A., Barraj, N.,

Mahfoudi, M., Rebai, A. & Bel Hassen, M. (2018). Using general linear model, Bayesian Networks and Naive Bayes classifier for prediction of Karenia selliformis occurrences and blooms. Ecological Informatics, 43, 12-23.

Foster, I., Ghani, R., Jarmin, R., Kreuter, F. & Lane, J. (2016). Big Data and Social Science: A Practical Guide to Methods and Tools(1st Ed). Boca Raton, FL: Chapman & Hall/CRC Press.

Fox, J. (2017). Using the R Commander: A Point-and-Click Interface for R. Boca Raton FL: Chapman & Hall/CRC Press.

Friendly, M., Symanzik, J. & Onder, O. (2019). Visualising the Titanic disaster. Significance, 16(1), 14-19.

Gandrud, C. (2015). Reproducible Research with R and R Studio (2nd Ed). Boca Raton, FL: CRC Press.

Harzevili, N. & Alizadeh, S. (2018). Mixture of latent multinomial naive Bayes classifier. Applied Soft Computing, 69, 516-527.

Heiden, S., Magué, J-P. & Pincemin, B. (2010). TXM: Une plateforme logicielle open-source pour la textométrie - conception et développement. En S, Bolasco, I, Chiari. & L, Giuliano (Eds.), Proceedingsof 10th International Conference on the Statistical Analysis of Textual Data - JADT 2010, Vol. 2 (pp. 1021-1032). Roma: Edizioni Universitarie di Lettere Economia Diritto.

Huang, R. (2018). RQDA: R-based Qualitative Data Analysis. R package version 0.3-1. URL http://rqda.r-forge.r-project.org.

Ihaka, R. & Gentleman, R. (1996). R: A Language for Data Analysis and Graphics. Journal of Computational and Graphical Statistics, 5, 299-314.

Jeffrey, A. (2019). ggthemes: Extra Themes, Scales and Geoms for 'ggplot2'. R package version 4.1.0. URL https://CRAN.R-project.org/package=ggthemes

Khanna, D. & Sharma, A. (2018). Kernel-Based Naive Bayes Classifier for Medical Predictions. En V, Bhateja., C, Coelo., S, Chandra. & P, Kumar (Eds.), Intelligent Engineering Informatics. Proceedings of the 6th International Conference on FICTA(pp. 91-101).

Singapore:Springer Nature. Levshina, N. (2015). How to do Linguistics with R. Data exploration and statistical analysis. Amsterdam/Philadelphia: John Benjamins Publishing Company.

Meyer, D., Dimitriadou, E., Hornik, K., Weingessel, A. & Leisch, F. (2019). e1071: Misc Functions of the Department of Statistics, Probability Theory Group (Formerly: E1071), TU Wien. R package version 1.7-1. https://CRAN.R-project.org/package=e1071

Mizumoto, A. & Plonsky, L. (2015). R as a Lingua Franca: Advantages of Using R for Quantitative Research in Applied Linguistics. AppliedLinguistics, 37(2), 284-291. Rahlf, T. (2017). Data Visualisation with R, 100 Examples. Cham: Springer Nature.

Ratinaud, P. (2014). Iramuteq. Interface de R pour les Analyses Multidimensionnelles de Textes et de Questionnaires. Un logiciel libre construit avec des logiciels libres. Version 0.7 alpha 2. URL http://www.iramuteq.org/

R Core Team. (2019). R: A language and environment for statistical computing. R Foundation for Statistical Computing, Vienna, Austria. URL https://www.R-project.org/

RStudio Team. (2016). RStudio: Integrated Development for R. RStudio, Inc., Boston, MA. URL http://www.rstudio.com/

Ruiz-Ruano, A. & Puga, J. (2016). R como entorno para el análisis estadístico en evaluación psicológica. Papeles del Psicólogo, 37(1), 74-79.

Salas, C. (2008). ¿Por qué comprar un programa estadístico si existe R? Ecología Austral, 18, 223-231.

Santana, A. & Nieves, C. (2016). Generación de documentos con R Markdown. Las Palmas de Gran Canaria: Departamento de Matemáticas de la Universidad de Las Palmas de Gran Canaria (ULPGC). Senn, S. (2008). Statistical Issues in Drug Development(2nd Ed). West Sussex: Wiley.

Stallman, R. (2015). Free Software, Free Society: Selected Essays of Richard M. Stallman(3rd Ed). Boston, MA: Free Software Foundation.

Stodden, V., Leisch, F. & Peng, R. (2014). Implementing Reproducible Research. Boca Raton, FL: CRC Press.

Wasserstein, R. & Lazar, N. (2016). The ASA's Statement on p-Values: Context, Process, and Purpose. The American Statistician, 70, 129-133.

Wasserstein, R., Schirm, A. & Lazar, N. (2019). Moving to a World Beyond "p < 0.05". The American Statistician, 73(sup1), 1-19.

Wickham, H. (2009). ggplot2: Elegant Graphics for Data Analysis. New York, NY: Springer-Verlag. Zhang Z. (2016). Naïve Bayes classification in R. Annals of Translational Medicine, 4(12), 1-5.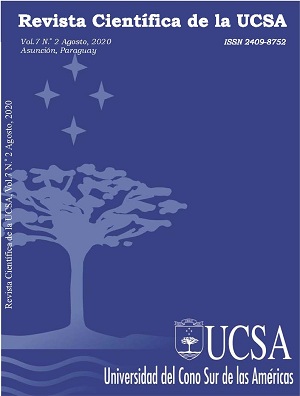 Sección
Temas de Actualidad